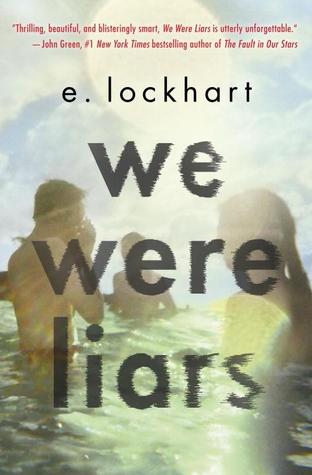 Pages: 240
Publication: May 13th 2014 by Delacorte Press
Series: N/A – Stand Alone
Source: Random House Children's via Netgalley

A beautiful and distinguished family.
A private island.
A brilliant, damaged girl; a passionate, political boy.
A group of four friends—the Liars—whose friendship turns destructive.
A revolution. An accident. A secret.
Lies upon lies.
True love.
The truth.
 
We Were Liars is a modern, sophisticated suspense novel from National Book Award finalist and Printz Award honoree E. Lockhart. 

Read it.
And if anyone asks you how it ends, just LIE.


When I seen the hype about this book, and the mystery that surrounded it I knew I would definitely have to read it. The mystery and secrecy alone that surrounded the book was enough to make me want to read it but when early reviews started coming in and everyone was so shocked by the ending, I was expecting this one to be the one that stunned me.
We Were Liars is probably one of the hardest reviews I've ever had to write. I read this back in March and I still cannot put into words the way I feel about this book. It's extremely hard to write a review on a story that's shrouded in mystery because I don't want to give away any hints.
I had a hard time connecting with any of the characters. I thought they were snobby, hard to understand and a very elite and stand offish group of people. After finishing the story, I understand why the characters were the way they were but I still didn't like any of them.
The ending left me with a sick feeling in my stomach. I just felt sad and emotional and I didn't agree with how the events unfolded. Really, I felt the same way after reading Before I Fall. I just felt so … empty. Like this book took a little piece of me with it, I know that sounds strange but I have no other way but to describe it but like that! I hated the way it ended, I can totally see WHY it ended the way it did but nearly two months after reading We Were Liars, I still can't understand or feel better about the way it wrapped up.
I almost want to reread this again because I overlooked a lot of clues, but thinking back it was almost glaringly obvious. I must say I was entirely shocked by the ending, I had no idea but when I started to replay some of the chapters in my mind it does kind of make sense. Maybe someday if I can get past that gut wrenching feeling that the ending gave me, I might attempt to read it again.
Although this wasn't my favorite story of the year, I do think it's worth a read. It wasn't my type of story but I can definitely see how so many people loved it.