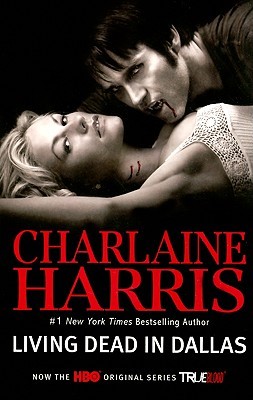 Pages: 291
Published: May 27th 2009 by Ace(First published Jan 01 2002)
# in Series: #2 in Sookie Stackhouse Series
Source: Purchased at Chapters Indigo
The Book Depository // Amazon // Chapters Indigo
 Summary from Goodreads:

"For years, Charlaine Harris has delighted fans with her mystery series featuring small-town waitress-turned- paranormal sleuth Sookie Stackhouse. Now, Ace is pleased to republish her second novel in the series in hardcover. In this book, Sookie is pursued by a very sexy vampire—and a very deadly monster. With HBO and Alan Ball, creator ofSix Feet Under, launching an all-new series, True Blood, based on the Southern Vampire novels, the demand for Charlaine Harris and Sookie Stackhouse is going to be bigger than ever."
My Thoughts & Review:
I now officially love this series.  Unlike Dead Until Dark, Living Dead in Dallas sucked me in from page one.  I've found lately that I'm often enjoying second books in the series(and so on…) more than the first book, I think it's mainly due to the fact that the characters are already introduced so you almost immediately jump into the story.
Everything is back to normal in Bon Temps after the previous killings of "fangbangers".  Sookie & Bill's relationship is going great and everything is peachy.  Then another murder happens, Lafayette and once again everyone is trying to figure out what is going on.  Sookie is then summoned by Eric to "work" in Dallas.  She sets off to Dallas, with Bill of course, and things start to go awry. In Dallas there is a cult where their sole purpose is to burn vampires.  A recent kidnapping of a vampire in Dallas puts Sookie right into the middle of this drama as her telepathic abilities are very useful.
I absolutely love the "world" that this series takes place in.  Since it is essentially a modern-day world, with nothing different except the fact that vampires are legal, it makes it almost realistic. I love that.
I really do like Sookie.  Her character is witty as well as naive, but not in an annoying way.  And of course I love Bill.  He really cares for Sookie and it's portrayed quite a bit.  I also like how some new creatures are introduced, as well as we get to meet a few more shapeshifters and another telepathic!
The ending was really satisfying and I can't wait to continue on with this series(which will take me awhile!).  Living Dead in Dallas is really fast paced, with lots of action and quite a different plot than the first book.
My Rating:

Happy Reading!