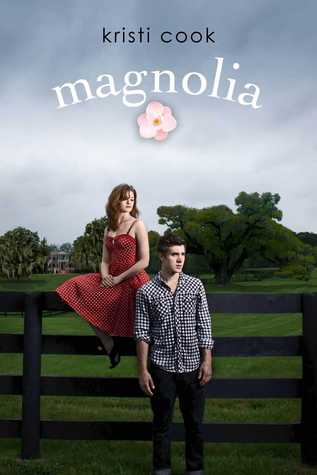 Magnolia by Kristi Cook
Published by Simon Pulse on August 05th 2014
Pages: 336
Source: Gifted
Add on Goodreads
Amazon•Kobo•TBD
My Rating:

In Magnolia Branch, Mississippi, the Cafferty and Marsden families are southern royalty. Neighbors since the Civil War, the families have shared vacations, holidays, backyard barbecues, and the overwhelming desire to unite their two clans by marriage. So when a baby boy and girl were born to the families at the same time, the perfect opportunity seemed to have finally arrived.

Jemma Cafferty and Ryder Marsden have no intention of giving in to their parents' wishes. They're only seventeen, for goodness' sake, not to mention that one little problem: They hate each other! Jemma can't stand Ryder's nauseating golden-boy persona, and Ryder would like nothing better than to pretend stubborn Jemma doesn't exist.

But when a violent storm ravages Magnolia Branch, it unearths Jemma's and Ryder's true feelings for each other as the two discover that the line between love and hate may be thin enough to risk crossing over.


My need to read this book basically came out of nowhere. It wasn't on my radar at all and then suddenly I wanted to read it SO badly. When I opened this up on Christmas I knew this would be the first book out of the ones that I received that I would read.
Gosh, I loved this story. Two ex-friends, fall in love because they are stuck together during a storm? YES, PLEASE! I love tropes like this, it just pleases my little heart to no end. I've only recently fell in love with contemporary stories, but I've fast learned that feel good, squishy romances like this are exactly what I love.
Jemma, was a little bit frustrating sometimes, but it was because she was so headstrong. I wanted to squeal at her so many times throughout the story, but it's only because she was being stubborn. I really liked her though, and it was mainly due to her being headstrong, haha. She definitely knew what she wanted and I loved her interests: videography and shooting. An offbeat combination of interests but it definitely set her apart! Ryder was awesome. Ah, he wore his heart on his sleeve and it was sometimes entertaining when he was bumbling around after Jemma.
I really enjoyed how the book was written in Acts, like a play. The first act being before the storm, the second act during the storm, and the third and final act being after the storm. I thought each one part of the story was well done, and not lacking for anything. And I was thoroughly surprised when I ended up crying during it! There was one part where my heart just went into my throat. I really thought this book was going to be all fluff (which is perfectly fine) but there was surprisingly some tough events that also happened.
The ending was PERFECT. Sheesh, I just loved it and there was nothing else I would have wanted for it. Well, except for more 😛
I will definitely be recommending this one many times in 2015! It's such a fun, quick read. Fluffy, but then there are some deeper parts as well, which to me equals the best type of contemporary read.