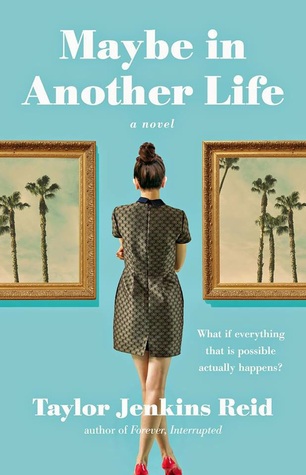 Maybe in Another Life by Taylor Jenkins Reid
Published by Washington Square Press on July 07th 2015
Pages: 342
Source: Simon & Schuster via Edelweiss
Add on Goodreads
Amazon•TBD
My Rating:

From the acclaimed author of Forever, Interrupted and After I Do comes a breathtaking new novel about a young woman whose fate hinges on the choice she makes after bumping into an old flame; in alternating chapters, we see two possible scenarios unfold—with stunningly different results.

At the age of twenty-nine, Hannah Martin still has no idea what she wants to do with her life. She has lived in six different cities and held countless meaningless jobs since graduating college. On the heels of leaving yet another city, Hannah moves back to her hometown of Los Angeles and takes up residence in her best friend Gabby's guestroom. Shortly after getting back to town, Hannah goes out to a bar one night with Gabby and meets up with her high school boyfriend, Ethan.

Just after midnight, Gabby asks Hannah if she's ready to go. A moment later, Ethan offers to give her a ride later if she wants to stay. Hannah hesitates. What happens if she leaves with Gabby? What happens if she leaves with Ethan?

In concurrent storylines, Hannah lives out the effects of each decision. Quickly, these parallel universes develop into radically different stories with large-scale consequences for Hannah, as well as the people around her. As the two alternate realities run their course, Maybe in Another Life raises questions about fate and true love: Is anything meant to be? How much in our life is determined by chance? And perhaps, most compellingly: Is there such a thing as a soul mate?

Hannah believes there is. And, in both worlds, she believes she's found him.

I have heard so many amazing things about Taylor Jenkins Reid so that coupled with the fact the story sounded unique, I couldn't resist giving Maybe in Another Life a whirl.
The main concept of this novel is that the main character, Hannah, experiences her life in two alternate scenarios. I thought that sounded sooo interesting. I have read stories like this before but more to the tune of science fiction, however, this is a contemporary fiction so it's just two possibilities of how Hannah's life could play out based on the decision she makes one night.
I loved the alternating of chapters, between each decision. It always seemed like when I reached the end of one chapter, it was at such a point that I wanted to keep going with that 'life choice' so I would keep reading but all the while I would reach the end of the alternate 'life choice' and be itching to find out what happened then! It definitely kept me on my toes while reading and I was dying to see how the end would play out.
Taylor Jenkins Reid certainly knows how to write her characters. Hannah and her best friend Gabby were terrific. I adored both of them, but in different ways. One of my favorite parts of this book was definitely their friendship. No matter what path Hannah took, that was a constant and rock solid. The love interest in each life was also terrific. I honestly have a hard time deciding who I liked best, they were both fantastic guys in that particular lifestyle.
I did thoroughly enjoy the story, but it was missing that "wow" factor for me. I do think I was expecting something totally different for the ending as well, it didn't end up how I expected it to (which I won't ruin obviously), so perhaps that played a part. Despite that, however, I can definitely see the appeal for Taylor Jenkins Reid's novels. She knows how to pull her readers in with her stories and her character building is fantastic. Hannah and Gabby really dealt with a lot of emotions and tough situations in both scenarios and I thought those aspects were really well done. 
Even though Maybe in Another Life didn't blow me away, I will definitely be reading Taylor Jenkins Reid's other two novels because I have heard such amazing things about them and it's definitely clear why her writing is so loved.