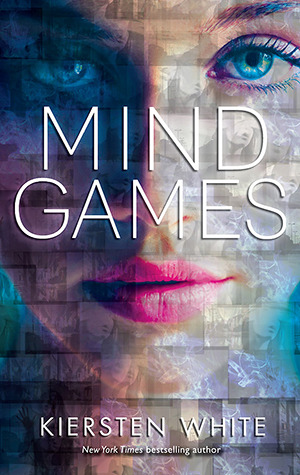 Pages: 256
Expected Publication: February 13th 2013 by HarperTeen
# in Series: #1 in Mind Games series
Source: HarperTeen via Edelweiss for review
Amazon | The Book Depository | Chapters/Indigo | Kobo
"Fia was born with flawless instincts. Her first impulse, her gut feeling, is always exactly right. Her sister, Annie, is blind to the world around her—except when her mind is gripped by strange visions of the future. 

Trapped in a school that uses girls with extraordinary powers as tools for corporate espionage, Annie and Fia are forced to choose over and over between using their abilities in twisted, unthinkable ways… or risking each other's lives by refusing to obey.

In a stunning departure from her New York Times bestselling Paranormalcy trilogy, Kiersten White delivers a slick, edgy, heartstoppingly intense psychological thriller about two sisters determined to protect each other—no matter the cost."
My Thoughts & Review:
Mind Games revolves around two main characters, Sophia and Annie, who are sisters attending a boarding school for gifted girls. The girls are "gifted" meaning they have mental powers such as feeling people's emotions, seeing into the future and reading people's thoughts. The school is actually an immensely dangerous place, they are training the girls in espionage and essentially holding them hostage. Sophia's power is that she has perfect instincts, and she wants to get her and Annie out of there as quick as possible.
I was somewhat neutral to both main characters, Annie & Sophia. I didn't dislike either one, but I did not form a bond with either character. One thing I really enjoyed about the girls though was their relationship. I loved how everything they did revolved around keeping the other safe, I thought it was very touching. I didn't really like or dislike any of the supporting characters either, which brings me to first dislike from the book: character building. There was little to none in Mind Games. I've said this in the past but I really, really depend on character building, especially in the first book in a series to amp me up for the story. If I can't immensely like or dislike a character, the plot is going to hang because I don't care what happens to the characters. There were several "evil" characters, you were supposed to hate in Mind Games and I was just impartial. I knew they were doing bad things, but they weren't fleshed out enough for me to dislike them.
The story is told in dual point of views, Annie and Sophia's, alternating between events in the past and current day. It was extremely jumpy. I enjoy dual point of views, but the fact that it was dual POV and alternating times was extremely hard to follow at times. The past did add a lot to the story to help you understand the current but I think due to the shortness in chapters it just led to disorganization of the plot.
I thought the concept of this evil boarding school was very interesting and the actual plot, though not well-developed, has a lot of potential to move forward. I enjoyed the ending and I'm interested to see where the second book takes us. Mind Games ends on somewhat of a cliffhanger, so I'm looking forward to how it's played out. One point I'm going to add is that I actually enjoyed the feeling of distrust that is laced throughout the novel. I'm not entirely sure who to trust, and which characters are being honest so that did play up the thriller part of the novel quite a bit.
All in all, Mind Games was an "ok" read and if you can look past it's faults I think there is good potential in the series.
My Rating: