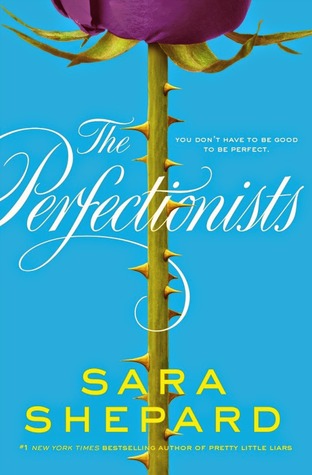 Pages: 336
Published: October 07th 2014 by HarperCollins
Series: The Perfectionists #1 (?)
Source: HarperCollins on Edelweiss
Amazon • TBD • Kobo • Goodreads

From the author of the #1 New York Times bestselling series Pretty Little Liars comes a thrilling new novel about five perfect girls who are framed for a murder they didn't commit.

In Beacon Heights, Washington, five girls—Ava, Caitlin, Mackenzie, Julie, and Parker—know that you don't have to be good to be perfect. At first the girls think they have nothing in common, until they realize that they all hate Nolan Hotchkiss, who's done terrible things to each of them. They come up with the perfect way to kill him—a hypothetical murder, of course. It's just a joke…until Nolan turns up dead, in exactly the way they planned. Only, they didn't do it. And unless they find the real killer, their perfect lives will come crashing down around them.

From Sara Shepard, author of the #1 New York Times bestselling Pretty Little Liars series, comes another story of dark secrets, shocking twists, and what happens when five beautiful girls will do anything to hide the ugly truth.


I was (still am?) a huge fan of the Pretty Little Liars tv show, although I haven't watched the last season because I find that it's just dragging on. When I seen The Perfectionists up on Edelweiss, I was immediately intrigued. It had the suspense element that I loved in Pretty Little Liars, and for some reason the fanciful, unrealistic lives of Sara Shepard's characters always seem to win me over.
I really, really loved the multiple point of view which is slightly ironic because when I first started I thought for sure I wouldn't like it as it was quite confusing. That being said, it takes no time to distinguish the girls individual voices and it is almost necessary to have the story told from all five girls viewpoints. Each girl has such a different story that it really helps for you to jump into their individual life as you move throughout the book.
I liked each of the girls differently, but I have to say that my very favorite would be Parker. There was something about her that really intrigued me, not to mention that her personal story is the most interesting. I know there is going to be so much revealed about her back story coming up and I can't wait to see what happens with her. All five of the girls have had crap things happen to them, but they (with the exception of Parker) are very good at building up a facade to the outside world. The guys/love interests of the story are really terrible though, aside from Jeremy. I just wanted to scream at all of them at so many different points, they were awful to the girls.
The plot itself is fantastic and really well executed. I was on the edge of my seat the entire book, and I still have no idea what was going on. I am completely clueless to who the killer might be and I just want to know NOW! Parker, Caitlin, Ava, Mac and Julie also have these intensely interesting back stories about themselves as well that tie into the main story and it's just altogether an amazing combination.
I had a really hard time deciding on the rating for this book. I really loved the story, it was incredibly time sucking, and I could not stop reading it… in fact I read it at every opportunity for a straight day until I finished it. I have zero idea who the killer might me or where this story is going, which is fabulous because I'm a chronic ending-guesser… BUT, and there is a huge but. This is another SERIES and I specifically wanted to try this because I thought it was a standalone. It's advertised as a thrilling new NOVEL so there was not a single hint that this was a series, which I found kind of sneaky. The main reason I stopped watching PLL right now is because it's dragging on and seeming to get stranger and more unrealistic and while I have only read the first book, I haven't continued on with the book series because I have heard the same things about the books. I specifically looked into this as much as a possibly could on a prerelease to see if it was going to be a series, and found nothing that would give me that hint and it irks me.
I did really love the story, and I do love Sara Shepard's writing so I can't honestly rate this book low because it was fantastic however I am so disheartened that it's a series that I didn't give it a full five stars. Obviously I'm going to read the second book, I NEED to find out something about these girls and who the killer is, but I am just crossing my fingers that this isn't another series in the double digits.