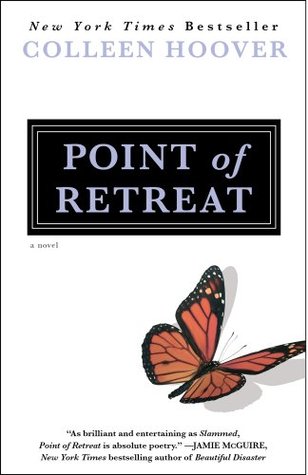 Pages: 320
Published: September 18th 2012 by Atria Books
# in Series: #2 in Slammed series
Source: Purchased from Coles
Amazon | The Book Depository | Chapters/Indigo | Kobo
"Hardships and heartache brought them together…now it will tear them apart. 

Layken and Will have proved their love can get them through anything; until someone from Will's past re-emerges, leaving Layken questioning the very foundation on which their relationship was built. Will is forced to face the ultimate challenge…how to prove his love for a girl who refuses to stop 'carving pumpkins.' "
My Thoughts & Review:
*May contain spoilers for Slammed*
Point of Retreat takes place about a year after Slammed ends. Layken's mother has passed away and Lake is raising her younger brother with Will's help. They are both enrolled in university, Will for his Master's and Lake in her first year and they still live across the street from each other and in a wonderful relationship. Will's past comes back to torment their relationship and they are faced with more obstacles…
Oh, Point of Retreat. I picked this up immediately after closing Slammed because I loved it so much, and I couldn't wait to see how Lake and Will's story was going to evolve. I was immediately overcome with sadness because Julia, Lake's mom, had passed away from cancer and even though you knew that was going to happen it was still so heart wrenching to know she had. I loved Julia in Slammed, I thought she was an amazing Mom and I was sad that she wouldn't be in at least the first part of the book.
Will and Lake are the same wonderful characters that I loved from Slammed, with of course some slight character building as they have both become stronger in the past year. Eddie is also the same wonderful best friend I adored, and Gavin and her are in Point of Retreat a lot. I love how Gavin and Will have become best friends now; the idea of best friends dating best friends is sweet.
I loved how so much of the book brought back pieces of Julia. I was in tears every time I read something she had left for Lake, or when Lake thought of a memory, or that FREAKIN PURPLE HAIR CLIP! lol. It was a wonderful addition to the story, and I love how she was leaving pieces of motherly advise for when she wasn't there to give it.
There are two major events in Point of Retreat. Both I can't really talk about because I'll spoil the story but both of them had me pulling out my hair… I finished Point of Retreat in no time.
I loved Point of Retreat SO much more than Slammed. Will and Lake are together, and they are growing up and their story is just wonderful. I don't have a single negative thing to say about Point of Retreat… if you loved Slammed you will definitely love this one.
My Rating:

Happy Reading!
xo Lauren