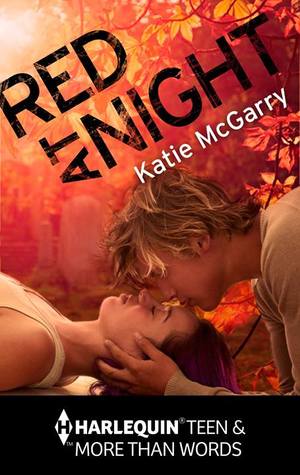 Red at Night by Katie McGarry
Published by Harlequin Teen on April 01st 2014
Pages: 84
Source: Free on Kindle
Add on Goodreads
Amazon
My Rating:

In Red at Night, Stella and Jonah are total opposites. She's the girl with purple hair from the wrong part of town. He's a high school senior who hangs with the cool crowd. Until a car accident leaves him haunted by guilt, and Jonah starts spending time at Stella's favorite refuge…the local cemetery.

Stella knows she should keep her distance—after all, she spent her girlhood being bullied by Jonah's friends. Once he's sorted out his tangled emotions, Jonah won't have time for her anymore. Too bad she's already fallen for him.


When I heard that Katie McGarry was releasing another novella I was so excited; Crossing the Line was fabulous and I loved how, although it was a short story, all of the fabulousness that is Katie McGarry was still there! Too bad I put this off for way too long…
Stella was AWESOME! Nevermind the fact that I love her name, but I instantly liked her. I can't really put my finger on what exactly it was, but I just liked her wholeheartedly. She had such a hard young life, from an extremely broken home, but she was strong and bold and her own person. Jonah, also, was fantastic. He was so broken when he 'met' Stella, but watching him grow and heal was wonderful.
Obviously, this being a novella I'm not going to totally rehash the events because then it would ruin the whole story, and this is definitely one that you need to read. Especially if you love Katie McGarry's writing and character building. The romance was sweet and perfect, the plot was interesting, and the only thing that I wish was different was that this was also a full length novel!