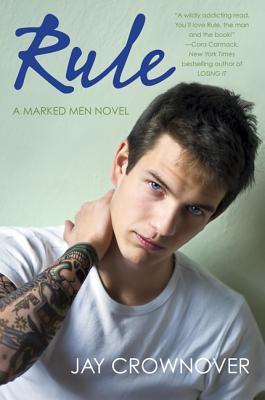 Pages: 327
Published: May 7th 2013 by William Morrow 
Series: Marked Men #1
Source: William Morrow Paperbacks via Edelweiss

Opposites in every way . . . except the one that matters 

Shaw Landon loved Rule Archer from the moment she laid eyes on him. Rule is everything a straight–A pre-med student like Shaw shouldn't want–and the only person she's never tried to please. She isn't afraid of his scary piercings and tattoos or his wild attitude. Though she knows that Rule is wrong for her, her heart just won't listen.

To a rebel like Rule Archer, Shaw Landon is a stuck-up, perfect princess-and his dead twin brother's girl. She lives by other people's rules; he makes his own. He doesn't have time for a good girl like Shaw-even if she's the only one who can see the person he truly is.

But a short skirt, too many birthday cocktails, and spilled secrets lead to a night neither can forget. Now, Shaw and Rule have to figure out how a girl like her and a guy like him are supposed to be together without destroying their love . . . or each other.


I received this for review way back in the summer, with full intentions to read it immediately. Of course it got pushed aside by other books and sadly got pushed further and further down my TBR pile. A couple of weeks ago, I just really had a craving for a New Adult romance and this one immediately came to mind… and definitely fulfilled my craving for one!
First off, the character building was phenomenal. I was so invested in the characters, and actually cared about where there relationships and development was going, which is a huge HUGE bonus for me. Shaw is presented outwardly as a "stuck up princess" but she is so, so far from that. I absolutely loved Shaw, she had a lot of layers and wasn't one-dimensional. I liked her attitude, her loyalty and the fact that she was totally different from what people think. Rule, is just sexy. Oh my WORD, that guy is sexy. Tattoos, piercings, mohawk, TATTOO ARTIST… spare me. He's a bit of an ass at first, but that's essentially surface level once his character is revealed more and I loved him once I started to see what he was really about. Also, the secondary characters were just as amazing in this book as the main characters, which to me is important as this series is actually a set of companion novels featuring them. I enjoyed how Rule opens you up to them, and already starts that attachment to them.
The story and plot are deeper than I found most New Adult to be. It's a really intense story with a lot of emotions and family issues. A lot of NA I've read lately has the same basic plot, and while Rule definitely has glimpses of that, Jay Crownover took it to a whole other level and the story has substance and kept me invested.
The romance is amazing, just perfect in my opinion. I loved seeing Rule and Shaw's relationship unfold, I loved the back and forth and I loved seeing them face the obstacles in their way. I did find Rule to be a bit more "sexy" than some New Adult, but that could just be because I haven't read any in a while and it certainly didn't take anything away from the story 😉
If you are looking for a new adult romance that has a bit more plot but still an amazing romance, you definitely need to pick this one up! I cannot wait to continue with the series and will be starting Jet by the New Year!