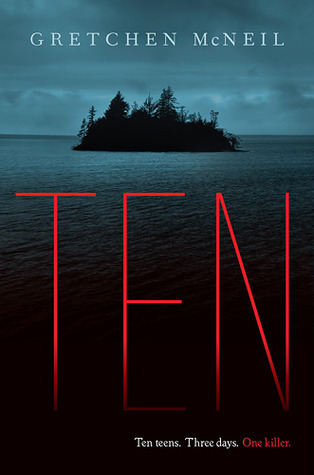 Ten by Gretchen McNeil
Published by Balzer + Bray on September 18th 2012
Pages: 296
Source: Purchased at Book Outlet
Add on Goodreads
Amazon•Kobo•TBD
My Rating:

SHHHH!
Don't spread the word!
Three-day weekend. Party at White Rock House on Henry Island.
You do NOT want to miss it.

It was supposed to be the weekend of their lives—an exclusive house party on Henry Island. Best friends Meg and Minnie each have their reasons for being there (which involve T.J., the school's most eligible bachelor) and look forward to three glorious days of boys, booze and fun-filled luxury.

But what they expect is definitely not what they get, and what starts out as fun turns dark and twisted after the discovery of a DVD with a sinister message: Vengeance is mine.

Suddenly people are dying, and with a storm raging, the teens are cut off from the outside world. No electricity, no phones, no internet, and a ferry that isn't scheduled to return for two days. As the deaths become more violent and the teens turn on each other, can Meg find the killer before more people die? Or is the killer closer to her than she could ever imagine?


I always intend on reading some Halloween-Esque books this time of year but for some reason, I always end up passing over the ones that I have on my TBR and reading the latest hyped about book. This year I swore I was going to read at least two books on my Halloween TBR so on a whim last weekend I grabbed Ten off the shelves and hunkered down with it.
There's not much I can really say in-depth about Ten without ruining some of the twists and turns that this book takes through the read. It's an incredibly fast-paced book, and it's certainly thrilling. I've read a few reviews that people had thought it was scary but I did not find it so, although I was on the edge of my seat waiting for the next person to die and trying to figure out who the killer was!
Although I did not find Ten to be frightening at all, I did love the campy style of horror that it had. It had some humor throughout and it kind of reminded me of a 90's slasher movie, which have always been some of my faves (Scream is one of my all time favorite movies in that genre).
I did end up guessing who the killer was, although I got pretty mixed up for a while because it was really hard to tell at some points but that's the story of my life with most thrillers – at one point I will end up figuring it out. It didn't take away from the fun of the novel, though – I ended up finishing this in practically one sitting.
Ten is a fantastic read for this time of the year – it's thrilling, has you on the edge of your seat, and definitely, has the atmosphere and setting down for a horror-style read. I definitely recommend it!