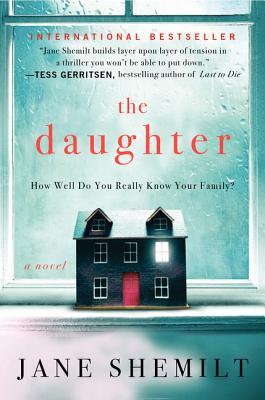 The Daughter by Jane Shemilt
Published by HarperCollins on March 3rd 2015
Pages: 356
Source: Harper Collins via Edelweiss
Add on Goodreads
Amazon•TBD
My Rating:

A riveting psychological thriller about a mother's obsessive search for her missing daughter

A mother driven to the brink by uncertainty . . .
A family that was never quite as perfect as it seemed.

Jenny is a successful family doctor, the mother of three great teenagers, married to her loving husband, Ted, a celebrated neurosurgeon.

But when her youngest child, fifteen-year-old Naomi, doesn't come home after her school play, the seemingly ideal life Jenny has built begins to crumble. The authorities launch a nationwide investigation with no success. Naomi has vanished, and her family is broken.

As the months pass, the worst-case scenarios—kidnapping, murder—seem less plausible. The trail has gone cold and the police have more pressing cases to investigate. Yet for a desperate Jenny, the search has barely begun. More than a year after her daughter's disappearance, she's still digging for answers—and what she finds disturbs her. Everyone she's trusted, everyone she thought she knew, has been keeping secrets, especially Naomi. Piecing together the traces her daughter left behind, Jenny discovers a very different Naomi from girl she thought she'd raised.

Jenny knows she'll never be able to find Naomi unless she uncovers the whole truth about her daughter—a twisting, painful journey into the past that will lead to an almost unthinkable revelation . . .


When I discovered The Daughter while browsing on Edelweiss, I had not heard one single thing about it. It was completely new to me, but the synopsis was so intriguing that I couldn't resist downloading it!
The Daughter is told in two different timeframes. One is the time around Naomi's ("The Daughter") disappearance, and the other is a year after her disappearance. I liked this style of story telling a lot. As you got deeper into the story unraveling, the alternate timeline really helped to weave the story together fully. Each time had it's own clues to what had happened to Naomi, and I don't think it would have been as good of a story without the alternating times.
Although the story is mainly about Naomi's disappearance, the character you are most familiar with is the mother, Jenny. Her husband, Ted, and two sons, Ed and Theo are also important characters in the story as well as a few other characters that are introduced later on. Despite enjoying the story, I didn't really care about the characters at all. I think the one who might have drawn the most emotion from me was Ed because he was obviously struggling with something in his life and was very bitter. Even when things were revealed about several of the characters, it did not pack an emotional punch for me, it was just another piece of the puzzle for me. The Daughter was definitely about the plot for me, in all aspects.
I thought The Daughter was very predictable. Once a few things were revealed, I could see where the story was going and I definitely wasn't surprised by the outcome. For me, it was definitely not a psychological thriller because I seen everything well before it happened. I think the story is more of a mystery, and about a mother's emotional journey to try to find answers, not so much a thriller.
The Daughter wasn't my favorite adult mystery but needless to say it definitely kept me interested the entire story. Even though I had suspected what had happened, long before the story ended, I still couldn't stop reading. I really enjoyed Jane Shemilt's writing, it definitely sucked me in.
I would certainly recommend this one to anyone who likes a well written and thought out mystery!