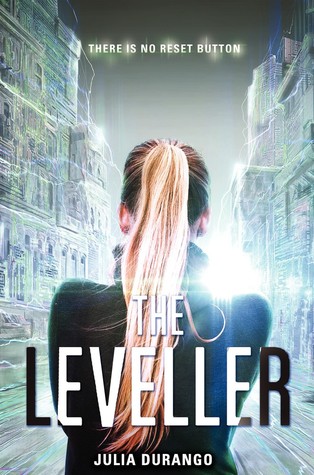 The Leveller by Julie Durango
Series: The Leveller #1
Published by Harper Teen on June 23rd 2015
Pages: 256
Source: Harper Teen via Edelweiss
Add on Goodreads
Amazon•Kobo•TBD
My Rating:

Nixy Bauer is a self-made Leveller. Her job? Dragging kids out of virtual reality and back to their parents in the real world. It's normally easy cash, but Nixy's latest mission is fraught with real danger, intrigue, and romance.

Nixy Bauer is used to her classmates being very, very unhappy to see her. After all, she's a bounty hunter in a virtual reality gaming world. Kids in the MEEP, as they call it, play entirely with their minds, while their bodies languish in a sleeplike state on the couch. Irritated parents, looking to wrench their kids back to reality, hire Nixy to jump into the game and retrieve them.

But when the game's billionaire developer loses track of his own son in the MEEP, Nixy is in for the biggest challenge of her bounty-hunting career. Wyn Salvador isn't some lazy kid looking to escape his homework: Wyn does not want to be found. And he's left behind a suicide note. Nixy takes the job but quickly discovers that Wyn's not hiding—he's being held inside the game against his will. But who is holding him captive, and why?

Nixy and Wyn attempt to fight their way out of a mind game unlike any they've encountered, and the battle brings them closer than either could have imagined. But when the whole world is virtual, how can Nixy possibly know if her feelings are real?

Gamers and action fans of all types will dive straight into the MEEP, thanks to Julia Durango's cinematic storytelling. A touch of romance adds some heart to Nixy's vivid, multidimensional journey through Wyn's tricked-out virtual city, and constant twists keep readers flying through to the breathtaking end.


I immediately added The Leveller to my TBR when I seen it. It sounded very different from anything that I've personally read, and the MEEP world sounded so interesting; I couldn't wait to pick it up!
Nixy, the main character, was a little bit of a bad ass! I liked her attitude, as she didn't care what others thought of her, despite her unpopular job with her peers. I liked that she was a huge gamer because that's not something we see girls portrayed as a lot (which is SO not the case!), and I liked that her two best friends were guys. We often see a gaggle of girls as the best friends, which is definitely realistic a lot of the time, but there are definitely girls out there who have guys as their closest and best friends! I thought her parents were pretty awesome too, such a fantastic job for your parents to have. Wyn was… interesting? Honestly, I don't really have an opinion about him either way. He was super smart, which I liked as a quality, and pretty loyal to Nixy but other than that I just felt unattached to him. Even though I liked basically all the characters, I didn't find that there was a lot of development there at all. I chalked it up to this being more of an action and plot-based book than a character driven novel though because it didn't distract from the story for me.
The insta-love was probably the main thing that annoyed me about this book. I can certainly appreciate that Nixy and Wyn were the only two real people (well with a few exceptions) stuck in a virtual world for a few days, but for me that's more like instant attraction, not love. Sometimes I don't mind it at all, but in this type of situation, where it was essentially life or death, I thought it was a bit too unrealistic and much for me.
The plot was very predictable. I pretty much figured out who was the main culprit almost as soon as Nixy jumped into the game so needless to say when the ending came around I wasn't very shocked. Plot wise though, that was the only part that didn't thrill me, and if I'm being honest, the lack of twists didn't really take much away from the story for me. I thought the MEEP was really fascinating, and something that I would totally be interested in if it was real! I think it sounds like a fun game world that could have something for everyone and the fact that you can create your own custom worlds is so cool.
Despite those few minor issues I had with The Leveller, I still really enjoyed it. I thought it was executed really well, the characters were likable (although this doesn't always matter to me), the plot was fast paced and the MEEP world was very interesting. All in all, it was a fun, enjoyable read and a series I will definitely be continuing.