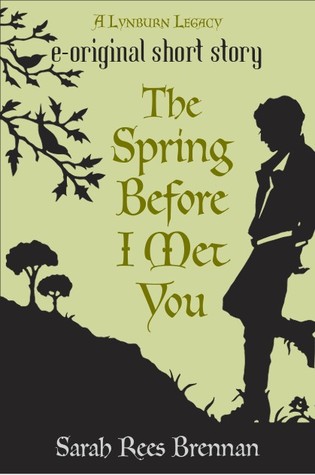 The Spring Before I Met You by Sarah Rees Brennan
Series: The Lynburn Legacy #0.25
Published by Random House on September 11th 2012
Pages: 15
Source: Free Online
Add on Goodreads
Read Online (free!)
My Rating:

Introduction by Holly Black:

I had the privilege of reading this story many months ago and swooning over it almost as much as I swooned over Unspoken, the first book of Sarah Rees Brennan's gorgeously crafted modern gothic trilogy. Sarah's writing is incredible in that she is able to write these witty, lush scenes that have you smiling along until suddenly, in a single sentence, she reaches out to break your heart.

This story introduces us to one of the main characters of Unspoken, Jared Lynburn. Seeing him as the broken, dangerous, closed-off teenager that he appears to be from the outside allows us to anticipate all of the insight we'll have into his character when we get inside his head--which we will, since he's the heroine's "imaginary friend."

I enjoy the contrast of Jared's loneliness in the rough streets of Hunters Point/Bayview in San Francisco and the small, strange English town Jared is headed toward, and the girl he is about to meet. But most of all, in this story, I enjoy Jared himself, a character who is a study in contrasts--pushed to such extremes of despair and fury that he's truly capable of anything and yet capable of vast kindness, gentleness and humor.
When I finished Unspoken of course I wanted all things Lynburn Legacy so I immediately sought out these novellas online.
Jared definitely intrigued me in Unspoken with his broody nature so I was excited to see that the first novella focused on him prior to moving to England.
I loved this little glimpse into what Jared's life was like prior to Kami (well Kami in the flesh haha). I think it opened a few doors into his mysterious character, especially when it comes to his mother. Gosh, his Rosalind is terrible. She's so spacey but also really awful to her son. No wonder Jared is so standoffish. I also loved how kind his guidance counselor was to him. It's kind of interesting to think about how she doesn't know him now… when he's grown so much!
I thought this was a great addition to the series and really gave me an additional window into Jared's personality.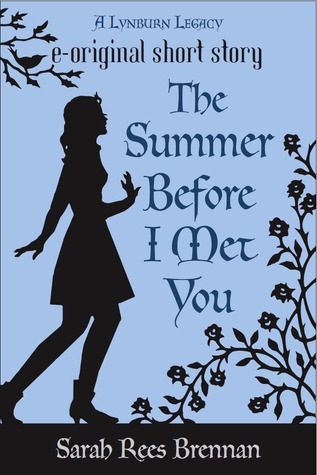 The Summer Before I Met You by Sarah Rees Brennan
Series: The Lynburn Legacy #0.5
Published by Random House on September 05th 2012
Pages: 13
Source: Free Online
Add on Goodreads
Read Online (free!)
My Rating:

"Take care of your spirit, Kami," said Megumi. "And don't burn the place down."

Kami grabbed both the suitcases and headed for the cabin she was sharing with Liz and Angela. Liz walked with her, and on their way Kami stopped.

"My Sobo was exaggerating," she said earnestly. "There have been very few fires."
I really enjoyed this novella also!
Kami and Angela's dynamic is one of my favorite things about these books because they are just so hilarious together. They are total opposites in every aspect of their personality so I enjoy seeing them interact with one another.
I also loved seeing Rusty <3 He's hilarious, and so obviously into Kami. I mean… I feel like it's obvious haha.
This novella was also quite a bit heavier than I expected it and my heart really hurt for Kami at the end. No spoilers obviously, but this is definitely not the light read that I expected!
Again, I think this is a really great addition to the trilogy. Kami references this summer camp so it's nice to put that together, and she also talks about her Sobo so much so I loved getting a glimpse of her!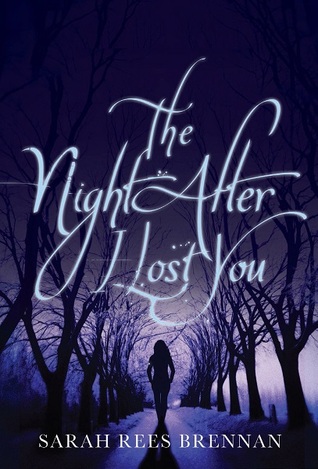 The Night After I Lost You by Sarah Rees Brennan
Series: The Lynburn Legacy #1.5
Published by Random House on September 25th 2013
Pages: 9
Add on Goodreads
Read Online (free!)
My Rating:

Set the night after the end of Unspoken, before all the action of Untold. You have to keep moving in a Gothic mystery. But sometimes you can take a night to be sad.
I was really, really itching to read this novella after the events at the end of Unspoken and while I really enjoyed this last novella, I didn't get as much of a takeaway from it that I did the first two.
It's told from Ash's perspective the night that everything was revealed in Unspoken. I was really, really upset with Ash at the end of Unspoken so I think that's why I wasn't so keen on this one as the other two.
You really get a good look at Ash's thoughts and just how deep is need for acceptance and loneliness is. I'm actually really glad that I read this one because I had a different outlook on Ash going into Untold than I would have had I not read this.

In summary, I really think these novella's are a great addition to the main trilogy. You get to see a little deeper into Jared, Kami  and Ash's personalities and they shouldn't be passed up!