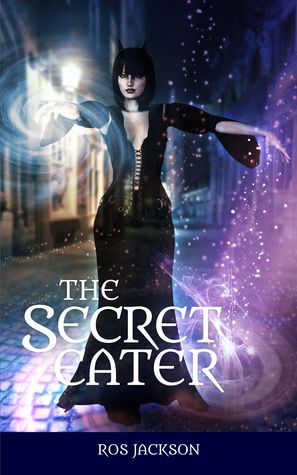 Pages: 86
Published: July 12th 2013 
Series: N/A – Stand Alone
Source: Author for honest review

Kenssie is a demon who feeds from secrets. Lately pickings have been slim, and she has grown so weak that her shield of invisibility is slipping. As the servant of a demon who eats embarrassment she already feels like she's the laughing stock of the demonic world. But the scorn of someone who thinks that Hawaiian shirts are the height of cool is the least of her worries. 

A powerful fear demon is dead set on making her his slave, a position that carries seriously short life expectancy. 

She has no friends. 

No powers. 

No clue. 

Her only hope of escaping a life of terror lies in stealing a grimoire she's never seen from the clutches of a vindictive group of master demons.


Kenssie, the main character is a demon that feeds of secrets of mortals. This is what instantly grabbed me from the synopsis. I love all paranormal's and I haven't read a lot of stories that focus solely on demons. I really enjoyed Kenssie's character. She was supposed to be wholly wicked but she wasn't, there were layers of soft spots that showed through several times. I was actually surprised, despite the length of the novella, how invested I was in Kenssie.
The world building and plot in The Secret Eater was great for a novella. While I wish there was more explanation of the world, that's not entirely possible when the book is less than 100 pages and Ros Jackson did a great job of providing vivid pictures of what the world was like. I really loved the "feeding" that the demons did. Often I was entirely confused about what was real and what was not as the powerful demons have the ability to alter the perceptions of others. The plot was wonderful and very engaging. I loved how you had no idea what was going on and what was going to happen next which really kept you on the edge of your seat. There were quite a few sharp twists to the story and none I was expecting.
The only downsides to The Secret Eater I have are that explanations sometimes fall short as well as you are thrown quite a bit of information at once and the length. Obviously the first reason ties in with the second but I really wish that The Secret Eater was a full length novel. It is incredibly interesting and I wanted the story to go on for so much longer. That being said, it was a great story and if anyone is looking for a quick, paranormal read I highly recommend picking this up! You will read it in one sitting because it's near impossible to put down!



Happy Reading!
xo Lauren