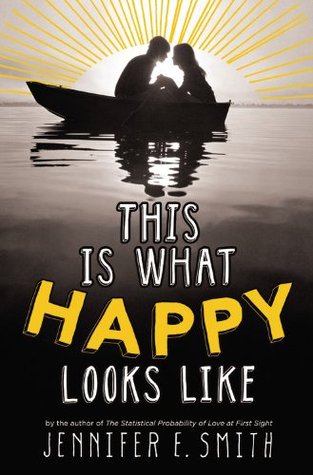 Pages: 416
Published: April 02nd 2013 by Poppy 
Series: N/A – Standalone
Source: Purchased on Kindle
Amazon | TBD | Kobo | Goodreads

If fate sent you an email, would you answer?

When teenage movie star Graham Larkin accidentally sends small town girl Ellie O'Neill an email about his pet pig, the two seventeen-year-olds strike up a witty and unforgettable correspondence, discussing everything under the sun, except for their names or backgrounds. 

Then Graham finds out that Ellie's Maine hometown is the perfect location for his latest film, and he decides to take their relationship from online to in-person. But can a star as famous as Graham really start a relationship with an ordinary girl like Ellie? And why does Ellie want to avoid the media's spotlight at all costs?

I picked up This Is What Happy Looks Like for the Spring Into Summer read along. This is definitely not one I would have picked up on my own. I normally gravitate to a heavier contemporary plot, not a fun one so I was interested to see how I would make out with Happy.
Ellie receives an email one night from "G" asking for her to walk his pet pig. Problem: Ellie lives across the country in Maine and "G" lives in California… oh and they don't know each other. Even though the email went to the wrong person, E & G continue to exchange emails over a few months and develop a great friendship online. Little does Ellie know that G is actually Graham Larkin, a teenage actor and he is coming to her quite town to film his next movie. Enter a cutesy romance, some avoidance… will they work out in real life??
Well, well, well. The characters: Ellie, Graham, Quinn… There were all good enough characters I suppose but the problem I had with them was that they had zero depth. They certainly weren't complicated and definitely didn't have any layers to peel back. What you see is what you get folks.
Before I continue I want to say that I DID enjoy Happy. It might come off as sounding as I didn't but I really did. That being said this book is light, fun and will provide you with a few hours of entertainment. It won't pick at your emotions or cause you to squeal but I'm certain if you like contemporaries you will enjoy this.
The plot is pretty straight forward and it's not hard to tell where the story was going. I did think the bit about Ellie's Dad thrown in there was entirely random and in my opinion the story probably could have done without it. It felt a bit like a filler for me. I enjoyed the cutesy romantic things that Graham for Ellie and their relationship was sweet and wholesome.
That's about all I can say about Happy. It's cute, a little bit dorky, sugary sweet and corny. But it's fun. Take this to the beach with you and you'll finish it in a few hours. A good summer read.