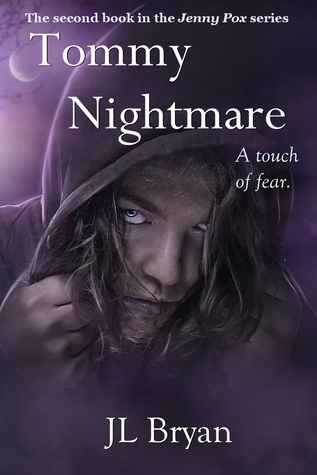 Tommy Nightmare by J.L. Bryan
Series: The Paranormals #2
Published by Self Published on April 10th 2011
Pages: 284
Source: Lendle
Add on Goodreads
Amazon•Kobo
My Rating:

While Fallen Oak recovers from the Jenny pox, someone new is hunting Jenny.

Like Jenny, Ashleigh Goodling belonged to a pair of opposites with powers that mirror each other.

Now Jenny and Seth must face the opposite of love...

Why did it take me so long to read this book?!?! The first chapter I dived right back into the wonderful world of the paranormals and I wished I hadn't of waited so long to pick it up.
Tommy Nightmare starts of when Tommy was a young boy living with an abusive foster family. Tommy runs away because his of foster-father but not before meeting a young girl who can communicate with the dead. The "special" thing about Tommy is that his touch can inflict great fear.
After Tommy is introduced the story picks back up with Jenny right where you left off at the end of Jenny Pox. Ohhh Jenny and Seth how I have missed you
The government has put a quarantine in effect as they think the deaths were caused by a plague but it's soon covered up however not long after Darcy(with a twist!!) tried to convince the medical examiner that it was due to Jenny and her "pox".
Tommy Nightmare has quite a few twists and turns that I was not expecting at all but I will not ruin them for anyone who wants to read this. If you loved Jenny Pox I highly suggest picking this up! You are also introduced to two new paranormals, including Alexander Death who is the title of the third book, and don't expect Ashleigh to suddenly disappear 😉