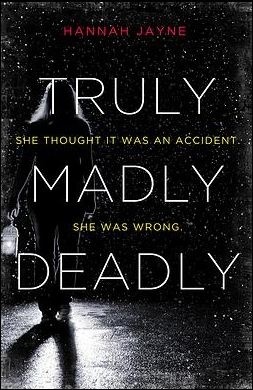 Pages: 262
Published: July 2nd 2013 by Sourcebooks Fire 
Series: N/A – Stand Alone
Source: Borrowed from the library
Amazon | TBD | Kobo | Goodreads

They Said It Was An Accident…

Sawyer Dodd is a star athlete, a straight-A student, and the envy of every other girl who wants to date Kevin Anderson. When Kevin dies in a tragic car crash, Sawyer is stunned. Then she opens her locker to find a note:

You're welcome.

Someone saw what he did to her. Someone knows that Sawyer and Kevin weren't the perfect couple they seemed to be. And that someone—a killer—is now shadowing Sawyer's every move…


I was really excited to pick up Truly, Madly, Deadly; I love thrillers, and lately, I haven't been able to find a thriller that well, completely thrilled me.
Sawyer, the main character, is essentially perfect except for her relationship with Kevin. I really enjoyed Sawyer's character. I thought she was fairly believable and realistic, especially in comparison to other YA novels, where main characters in contemporary sometimes have unrealistic qualities of an everyday teen. Granted, Sawyer's situation is slightly less than ordinary but still, her character was done well. I felt for her aloneness throughout the novel, her boyfriend just died, she has just moved to the outskirts of town in a new, empty subdivision and she is constantly being shoved to the back-burner by her father and his new, pregnant wife. Kevin, Sawyer's boyfriend who died, didn't actually appear in the novel because the event happened prior to the opening of the story. I did wish that I could have had a bit more insight to Kevin and more to the Sawyer/Kevin story, I think it would have added a bit more to character as well as plot development. Continuing onto that point, the character development wasn't fantastic. I would have liked to see a bit more into each characters personality, especially Cooper, I felt that it was lacking at several opportunities to do that.
The plot was great and really does keep you on the edge of your seat. I have read a ton of thrillers, and like I said above, not a lot recently that have totally thrilled me. Unfortunatly Truly, Madly, Deadly didn't entirely surprise me however I did really enjoy the story. I'm not sure if it's actually predictable, or if it comes from reading so much in this genre, but I basically tagged the culprit, straight away. It seemed rather obvious to me, and honestly I was a bit disappointment that it unfolded like that. I do think that if thriller novels are only something you read every once in a while, you may find the plot much more exciting and hard to pinpoint.
The writing was great, and I was left second guessing a few times so I wasn't totally disappointed. I think Truly, Madly, Deadly is a great addition to the genre and definitely worth the read. Hannah Jayne's writing style is amazingly easy to read and I flew through the book. While it wasn't a favorite, I am glad I picked it up and would recommend it to anyone that likes a nice thriller but one that's not too intense.