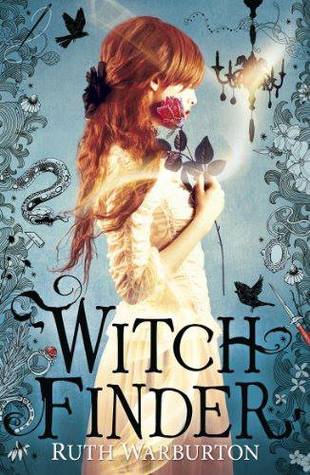 Pages: 374
Published: January 2nd 2014 by Hodder Children's Books 
Series: Witch Finder #1
Source: Hachette Children's Books via Netgalley
Amazon | TBD | Kobo | Goodreads

London. 1880. In the slums of Spitalfields apprentice blacksmith Luke is facing initiation into the Malleus Maleficorum, the fearsome brotherhood dedicated to hunting and killing witches.

Luke's final test is to pick a name at random from the Book of Witches, a name he must track down and kill within a month, or face death himself. Luke knows that tonight will change his life forever. But when he picks out sixteen-year-old Rosa Greenwood, Luke has no idea that his task will be harder than he could ever imagine.


To say I was excited to read this might have been a slight understatement. I love witches, they are by far one of my favorite things to read about and recently I have gotten extremely interested in historical fiction with a paranormal twist… add in a TERRIFIC cover and I was sold.
Witch Finder starts off amazing. Luke is about to become initiated into the Malleus Maleficorum which is essentially an elite group of men that hunts and kills witches. He is given three tasks, the first two which is he passes and then a final one… to kill the witch whose name he has drawn. To undertake the task Luke poses as a groomsman at Rose's family home. And then the excitement ended.
The problem with Witch Finder wasn't the characters. I actually really enjoyed the characters, Rose was wonderful and wholesome and kind. Luke, very much the same. I thought there personalities were real, their instant love true for that time period. I really enjoyed both of them. No… the problem with Witch Finder for me was the plot, the plot devices and the pacing.
Though it had an intriguing start it quickly fell flat. There was next to no action that took place, and although Luke was supposed to be masterminding this kill of Rose, we didn't see it happen. He made two attempts, both of course backfired, but there wasn't any plotting and each time he prepared to kill her you could tell it wasn't going to happen. Add that into the fact that the pacing is sooo slow and it just didn't work for me. Oh, yes… and let's also talk about the animal abuse and killing as a plot device. If it's fitting to the story, great. It wasn't here. Animal abuse was used as a way to make a character seem more evil and I thought it was disgusting. There are many other concepts that could have been used instead of beating a dog to death. Especially when the said character, Sebastian, is already horrendous and extremely unlikable. Once that part came it completely threw the story off for me and I had a hard time getting back into it. Now, the second half of the story did pick up quite a bit and became rather interesting so I was able to pick up the pace and finish but it wasn't enough to make me fall in love with Witch Finder.
Unfortunatly, I probably wont continue on with this series. Although I liked both Rose and Luke, I'm not invested enough in their story. I may pick it up if I see the reviews on the second book are better, but it's hard to say.