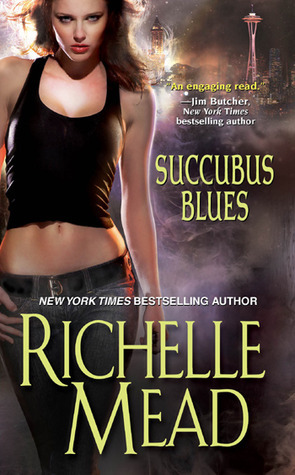 Succubus Blues by Richelle Mead
Series: Georgina Kincaid #1
Published by Zebra Books on August 01st 2010
Pages: 447
Source: Purchased on Kindle
Add on Goodreads
Amazon•Kobo•TBD
My Rating:

When it comes to jobs in hell, being a succubus seems pretty glamorous. A girl can be anything she wants, the wardrobe is killer, and mortal men will do anything just for a touch. Granted, they often pay with their souls, but why get technical?
But Seattle succubus Georgina Kincaid's life is far less exotic. At least there's her day job at a local bookstore--free books;all the white chocolate mochas she can drink;and easy access to bestselling, sexy writer, Seth Mortensen, aka He Whom She Would Give Anything to Touch but Can't.

But dreaming about Seth will have to wait. Something wicked is at work in Seattle's demon underground. And for once, all of her hot charms and drop-dead one-liners won't help because Georgina's about to discover there are some creatures out there that both heaven and hell want to deny. . .


While 2016 gave me a renewed look on reading & blogging, I still was having trouble picking a book at the first of the year. I scanned my shelves over and over (both virtual and real) trying to find something that would just suck me in and push me back into that reading spiral that I used to so easily fall into, and then Succubus Blues caught my attention. I had added this to my Kindle back in August, back in the midst of my slump, and then promptly forgot about it. I decided to give it a whirl and read the first chapter or so… and well it didn't end, I was completely wrapped up in Georgina's world!
Paranormal & Urban Fantasy is always a genre that I can easily get lost in. I love magic, paranormal beings and the somewhat glamorous lives that are often portrayed in urban fantasy and that feeling wasn't lost on Succubus Blues.
I loved Georgina. Immediately. First of all, she loves books and works in a bookstore. She had so many traits that I could relate to it was almost impossible to love her. She was so sarcastic but immensely likeable. I also enjoyed that although she was Succubus, she had her own personal set of rules to follow with her lifestyle. I was also immediately a fan of Seth. I could just understand so well how he had difficulty having a conversation at first with people, but behind the computer/on paper, he was a different person. Then when he slowly came out of his shell… amazing. Loved him! I loved all of the secondary characters in Georgina's life as well, Hugh, Carter (gosh I LOVED Carter… I couldn't see how they didn't get along haha), Cory… such a great cast of friends she had.
I admit, the story was definitely predictable. The two main 'twists' that happened, I had already seen coming. I loved how the story evolved, and Georgina grew, and how the plot unfolded so I enjoyed it despite figuring out what happened.
When I finished, I immediately went online and purchased the second book! I love Georgina, I love this story and I cannot wait to see what type of shenanigans she and her friends get up to in the next book. If you love urban fantasy, I definitely recommend giving this one a try, it's such a fun read: interesting plot and fantastic characters!
Succubus Blues put the spring back in my reading step, and has cemented the fact that urban fantasy is indeed my true north!