Stacking the Shelves is a weekly meme hosted by Tynga's Reviews where you showcase all of the books you received for the week whether it be physical or electronic books!
 Hiii 🙂 A late Merry Christmas to everyone! I hope y'all had a wonderful holiday. Nick and I are still technically on our vacation and are completely enjoying it.
We had a relaxing week, despite having to run around and do Christmas-y things the first few days. Lots of tv watching, napping and reading. Well I haven't been reading a lot but a bit. I won't talk a lot because I will just ramble and I rambled enough below that you probably won't want to read anymore 😛 Here is a quick glimpse of our tree Christmas morning. That box is for Simon, every time a package comes in he claims the box and makes it his new own for a few weeks before he gets bored and moves on to a new spot haha.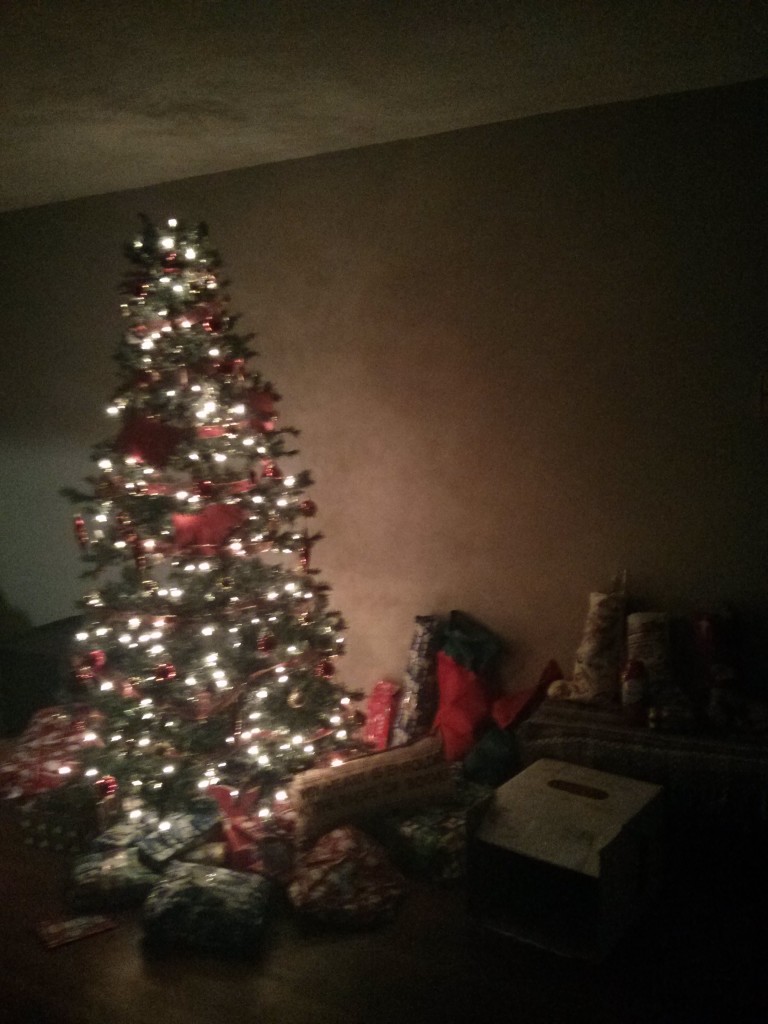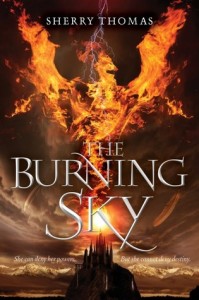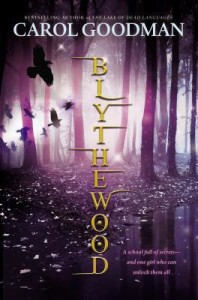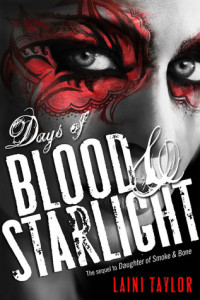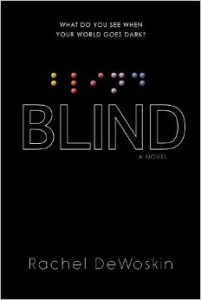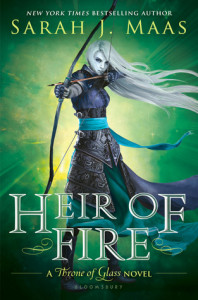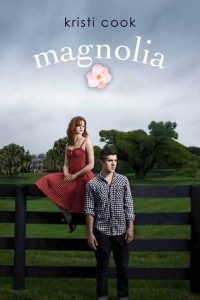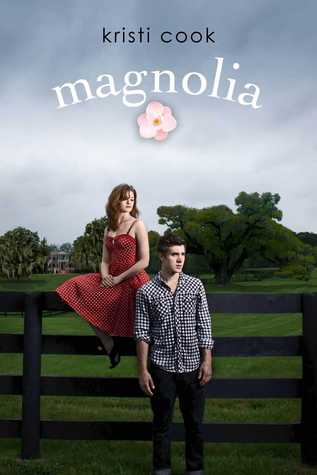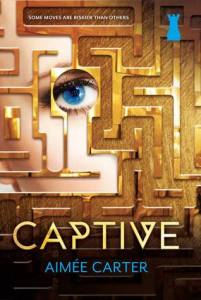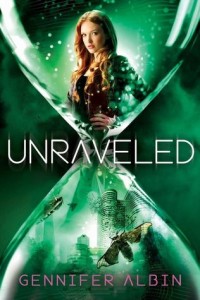 The Burning Sky by Sherry Thomas
Blythewood by Carol Goodman
Days of Blood & Starlight by Laini Taylor
*Purchased at Indigo
Blind by Rachel DeWoskin
The Assassin's Blade by Sarah J. Maas 
Heir of Fire by Sarah J. Maas
Magnolia by Kristi Cook
Captive by Aimee Carter
Unraveled by Gennifer Albin
*Gifts from Nick
When we went to Indigo on our Christmas shopping trip, I didn't really have much to do while there as Nick isn't really a reader SO instead of waiting in the car I decided to check out the bargain section! I love the selection of YA bargain titles at the bigger Indigo's, I always end up leaving with something! I found The Burning Sky, Blythewood and Days of Blood & Starlight all for less than $6.00 each. Obviously I couldn't pass those up since they are all on my TBR! Every Christmas Nick asks me for a list of 30 or more books. He clearly isn't buying me 30 books but he wants to choose ones that I want and ones that I don't currently own plus he wants to make it enough of a mystery that I won't be able to guess which titles he picked out. I gave him a huge list, and then subsequently forget which ones I put on it so I was definitely surprised! Blind is one that I wanted to read for a while and then I kind of forgot about it until I was making up the list for him. I can't wait to pick it up, I haven't seen any reviews on it really but it sounds really interesting. The Assassin's Blade I already read but I want to own them all in hardbacks, so this beauty is going on the shelves now 🙂 Gosh, they are so gorgeous in real life, I just want to stare at it all day lol. Heir of Fire I haven't read though (because I haven't read Crown of Midnight), but this will definitely be a January read because I CAN'T WAIT ANY LONGER! Magnolia sounds like a cute, contemporary read and one I've been eyeing up a lot lately on Goodreads. Captive is just AHHHHH. I'm dying for this, I loved Pawn and I need to read this ASAP! I'm so excited about Unraveled. I held off reading the second book so I could bulk read these two together but then I just never got the third book :/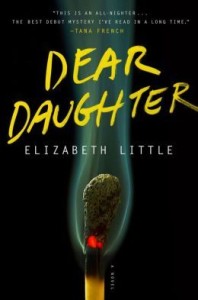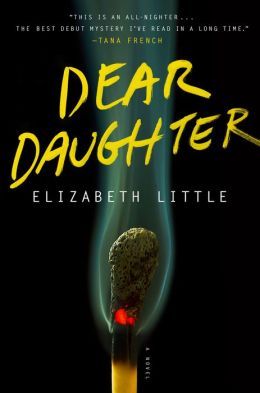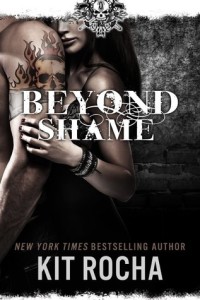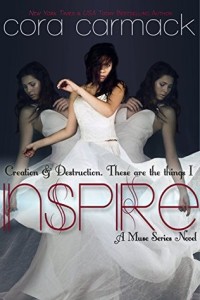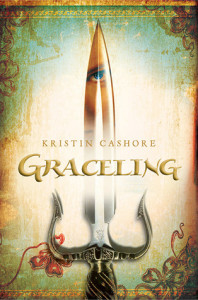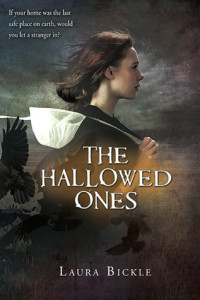 Dear Daughter by Elizabeth Little
*Borrowed from the library
Beyond Shame by Kit Rocha
*Free on Kindle
Inspire by Cora Carmack
*Purchased on Kindle
Graceling by Kristin Cashore
*Purchased on Kindle
The Hallowed Ones by Laura Bickle
*Purchased on Kindle
Dear Daughter sounds AMAZING, so I was pumped to see my hold come in from the library! And now that I have my Kobo to read library books on, I won't be hesitating to read this one, in fact, I've already started it! Beyond Shame was a freebie that I found on Amazon. It is not normally something that I would pick up on my own, but Kelly at Belle of the Literati has fantastic reviews on Kit Rocha's books so I decided to snag this one. Inspire, I had no intentions of getting straight away at release, BUT it was on special for the release week, and well you know how I can justify saving money on books I would get anyway 😉 Graceling & The Hallowed Ones were both on a Kindle deal yesterday for less than $2.00, so I absolutely could not refuse. Graceling is high up on my TBR because of my recent fantasy kick and  The Hallowed Ones is one I've been itching to read since Halloween this year. I seen it mentioned on a lot of blogs for October TBR's but didn't get around to picking it up. It's Amish paranormal fiction, which sounds AMAZING!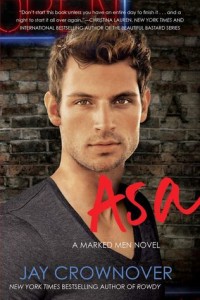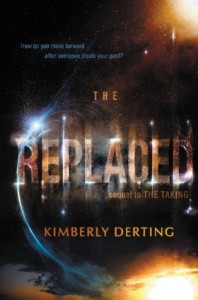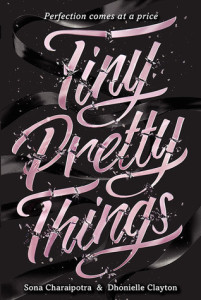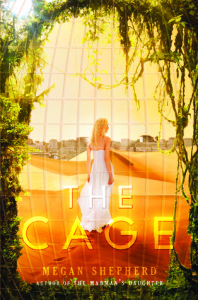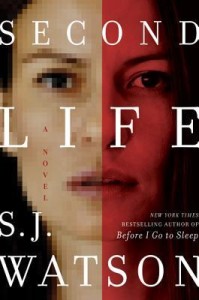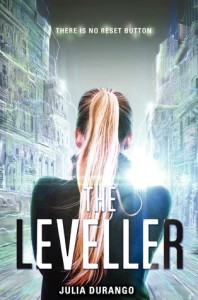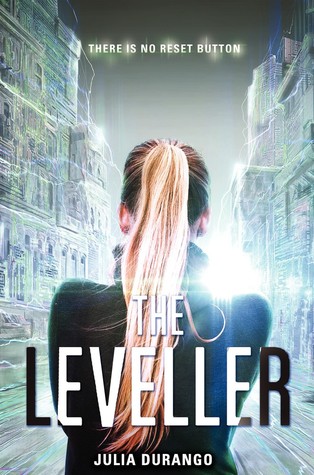 Asa by Jay Crownover
*From William Morrow Paperbacks via Edelweiss
The Replaced by Kimberly Derting
*From HarperTeen via Edelweiss
Tiny Pretty Things by Sona Charaipotra & Dhonielle Clayton
*From HarperTeen via Edelweiss
The Cage by Megan Shepherd
*From Balzer & Bray via Edelweiss
Second Life by S.J. Watson
*From Harper via Edelweiss
The Leveller by Julia Durango
*From HarperCollins via Edelweiss
It was definitely a Merry Christmas from HarperCollin's on Edelweiss this week! There was so many great titles that they uploaded right before Christmas 🙂 I really held back and only picked up ones I REALLY wanted, but there were so many fantastic ones! Asa is the sixth book in the Marked Men series. I really am going to buckle down and get this series done in 2015. I loved Rule and enjoyed Jet a lot so I need to get back to it! The Replaced I am SOOOO excited for. The Taking was fantastic, and I ended up loving it despite some initial reservations AND it ended on such a cliffhanger! Tiny Pretty Things is a little bit of a different plot that one I normally gravitate towards, but it sounds so intriguing and I have been eyeing it up since I first discovered it. The Cage sounds AWESOME. AH, no words for how excited I am for this one 🙂 Second Life I practically screamed when I seen it on Edelweiss. I loved Before I Go To Sleep, so I cannot wait to read a new mystery/thriller from S.J. Watson! I had no idea there was a new release coming so I had to snatch this up. The Leveller is just OMG… awesome sounding. Science Fiction is another genre that I've been really interested in and loving lately so this was a must get!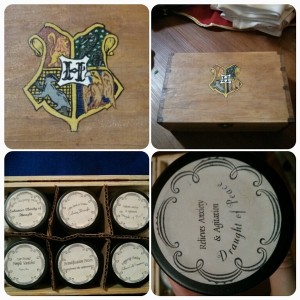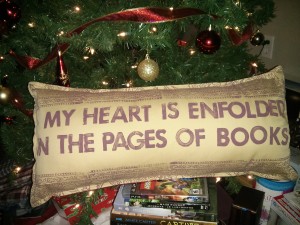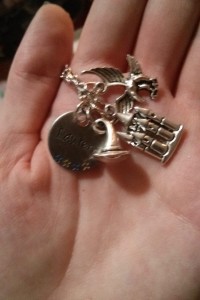 It was definitely a bookish Christmas this year. I didn't take photo's of everything, but I had to show these three things! My sister made me a beautiful homemade Harry Potter potion box. She's an RMT & took a course recently in aromatherapy, so each one of these 'potions' is a natural cream that serves a purpose: with a fun HP twist 🙂 My mom even hand painted the box to look like a trunk, with the crest! I was beyond thrilled when I opened this! Nick gave me this awesome bookish pillow for the daybed in my book room! My sister also gave me this Harry Potter necklace. EEK! There was a lot of excited squeals taking place in my house on Christmas morning needless to say!
Nick is awesome at picking out book-related things for me, and surprises me year after year! He also got me a beautiful bird ornament for my book room tree that is made of book pages, Harry Potter Lego Years 5 to 7, The Maze Runner (Which I have yet to watch… I can't wait!!) and a KOBO! I love my Kindle, but it has spoiled me with its eink and now I find it so hard to read library books on my tablet because of the glare. The only downside to the Paperwhite is that I can't read Canadian library books on it, so he got me a Kobo eink reader so I can read my library books!
I am beyond thankful for all the wonderful things I got from my family this year. Nick and I had a truly amazing holiday!
What did you get for Christmas? Link up!!!