Top Ten Tuesday is  a weekly meme created by The Broke and the Bookish.

I absolutely cannot believe that it is THIS time again: the time to make a Winter TBR. I didn't do SO great (just as I predicted) with my Fall TBR, and I still have lots to read from it. That being said though, I certainly did better with the Fall TBR than others in the past! Because there are just SO many books I want to read at any given time, I painstakingly went through my lists to try to make this as realistic as possible… ones that I will actually read before the Spring TBR 😛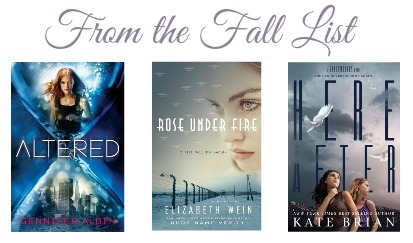 These three are carried over from my Fall TBR. There are a few others but these ones are the most urgent to me 😛 I didn't get a copy of Altered and Here After until fairly recently so that is why it took so long.. and Rose Under Fire, I have no excuse!

I really, REALLY want to read Into the Still Blue, but it's one of the series I almost don't want to finish! I will have no choice though, it's a review book 😛 Also Uninvited is one I have for review as well, and it just sounds SO interesting… it will definitely be one of my eARCs I pick up first. I picked up All The Truth That's In Me because of Hannah's review, so this will be a great one to read in the winter.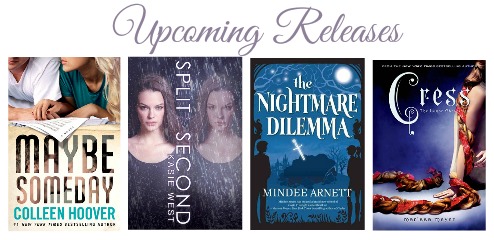 Maybe Someday: Well it's Colleen Hoover… enough said! Split Second I am DYING to read. Pivot Point was one of my favorite reads of this year so I NEED this now. Like yesterday! The Nightmare Affair was a great start to the series so I'm itching to read the second book and well Cress. Need I say more?
What picks do you have on your list for Winter? Are you as awful at completely your list fully as I am? Link up!