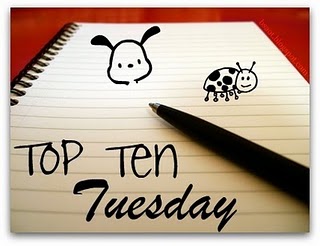 This week's top ten list is your summer to be read list. I certainly have more than ten books that I hope to read this summer but these are my most highly anticipated releases or just ones that are on my shelf that I hope to read soon!
1.  
Shadow of Night by Deborah Harkness
This is by far my most anticipated book of the summer and I will be reading it the day it comes out.  I
loved
 A Discovery of Witches and it was probably my favorite book read so far this year and every day gets me a little be closer to this book <3
2.
Born Wicked by Jessica Spotswood
This is on my June tbr list but I don't think I will get to this before July, this is a slow month for me.
3.
Before I Fall by Lauren Oliver
Yah… I'm not sure why I haven't read this yet.  I cannot wait to read this, I love Lauren Oliver.
4.
Revived by Cat Patrick
Gosh, this sounds soooo intriguing.
5.
Cinder by Marissa Meyer
I never thought this book would appeal to me at all, I didn't think Cyborgs would interest me.  But… the more and more I read about this book the more I want to read it, and it might be the first one I read in July!
6.  
Clockwork Angel by Cassandra Clare
I'm so behind with YA reading… I still haven't read this either! I loved City of Bones and I plan to get caught up on the Mortal Instruments series aswell this summer.
7.  
Article 5 by Kristen Simmons
Sounds amazing.
8.
Hush, Hush by Becca Fitzpatrick
I'd really like to get caught up to date with this series before Finale comes out! Guess that would mean I should probably start it!
9.
A Midsummer's Nightmare by Kody Keplinger
This seems like a fun, summer read.
10.  
The Diviner's by Libba Bray
This is pushing the end of the Summer as it's not released until September 18th 2012 but it's still before fall technically and I'm very excited to read this one.
Has anyone read any of these yet?(I'm sure, the majority of them have been released forever!) What do you think about them?
Happy Reading!