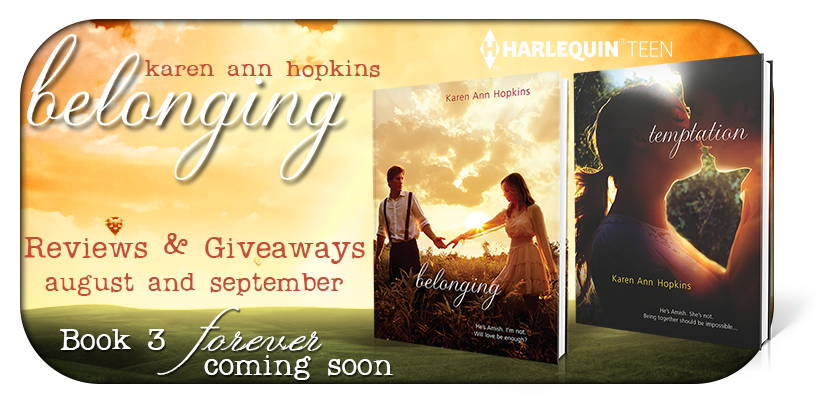 *Hosted by Kismet Book Tours*
I enjoyed the first book, Temptation, so much that I couldn't wait to jump into Belonging and see where Rose & Noah's story continued…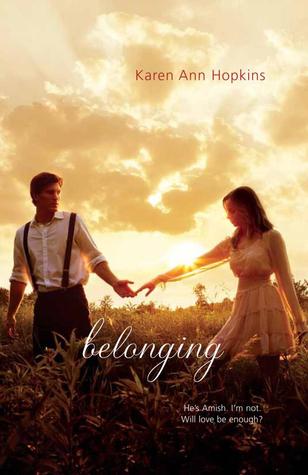 Pages: 408
Published: April 30th 2013 by Harlequin Teen 
Series: Temptation #2
Source: Received for tour review
Amazon | B&N | Facebook | Indiebound | Goodreads

I left everything I knew behind. 

But it was worth it. He was worth it. 

No one thought an ordinary girl like me would last two minutes living with the Amish, not even me. There are a lot more rules and a lot less freedom, and I miss my family and the life I once had. Worst of all, Noah and I aren't even allowed to see each other. Not until I've proven myself. 

If I can find a way to make it work, we'll be NOAH & ROSE 

together forever. 

But not everybody believes this is where I belong.


**May contain spoilers for Temptation**
The way Temptation ended had me dying to start on Belonging. Rose had decided to become Amish so she could be with Noah, and Temptation ended off just before her new journey began.
I really, really liked Rose in Belonging, probably even more so than in Temptation. She is such a strong-willed and determined young girl that you cannot help but root for her. I also really enjoyed Noah, still, but I found that his voice wasn't as prominent as it was in the first book. I love Rose's family, and despite the fact that I agreed with practically zero of their tactics to get Rose back, I still loved them. I can only imagine if I was in their shoes, and wanting my only daughter/sister back, that I might not be inclined to try some of those very things. I also really enjoyed Rose's new-found friends in the Amish community(and outside) especially Summer. She was loyal, sweet and exactly the type of friend that Rose needed in this story. And last, but certainly not least, I absolutely ADORED Ruth and James. They were stern and hard on Rose but you could tell that they absolutely fell in love with her. That was probably the most heartwarming thing about Belonging, in that this couple, who had certainly had their fair share of child rearing was so willing to take in an English girl and give her a chance to become Amish. Love <3
I loved seeing Rose battle with the Amish chores, her expectations in the community and the "Plain" ways. Like I said in my review for Temptation, before reading this series, I knew little to nothing about the Amish community so it's incredible to read about. The Amish are so entirely different from my lifestyle that it's often hard for me to relate with the situation but it's very interesting to watch the story unfold. That being said, I had a lot of personal conflicts with some of the Amish and their treatment of Rose. There was times I wanted Rose to do so well and become a part of the church, and times I wanted her to run for the hills. The proof is in the pudding however and the fact that Rose was so willing to give up all those unnecessary luxuries to spend the rest of her life with Noah is a testament to her character.
The ending is shocking. As a matter of fact, I was shocked for about the last 25% of Belonging. I had no idea the story was going to go down the road it did and I was both stunned and a bit excited. I don't even know how I will be able to wait to read Forever, the ending is most definitely a cliff hanger and I have no idea what is going to happen in the third book.
If you haven't picked up Temptation yet, go do it! And then also pick up Belonging because you will want to have it close on hand 😛





*Open to US/Can*
*If Rafflecopter does not load, please refresh the page or click on the link*