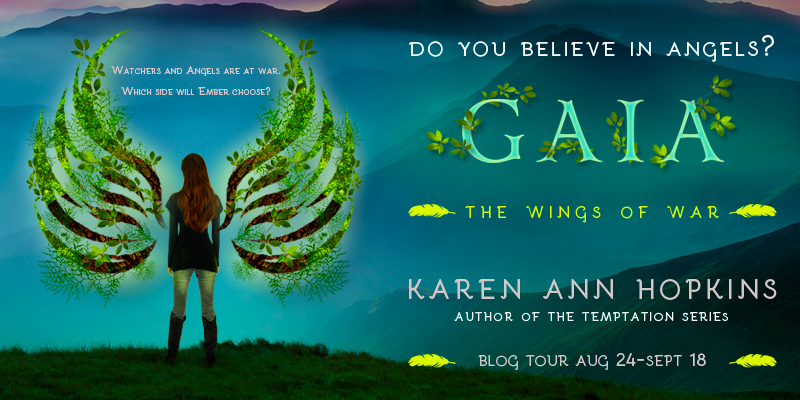 *Hosted by Kismet Book Touring*
Once again, I am thrilled to be a part of the book tour for one of Karen Ann Hopkin's book; this time for her newest release, Gaia, which is book to in The Wings of War series. I won't ramble on much, keep reading for my review and enter the amazing giveaway!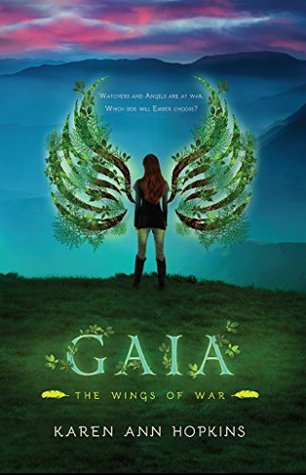 Gaia by Karen Ann Hopkins
Series: The Wings of War
Published by Self Published on August 3rd 2015
Pages: 294
Source: From Author
Add on Goodreads
Amazon
My Rating:

As the Demons grow bolder and the walls between the planes of existence weaken, Ember is forced to develop her powers as quickly as possible, and she seeks out a powerful earth Watcher to continue her supernatural lessons. Her glimpse of the future demands she fight the dark forces spreading across the earth.

But her new mentor has his own agenda, making her question everyone and everything she ever trusted.
When Ember is thrust into the world of the Watchers, she learns of their plans—ones that defy the scripture and make them enemies of the Celestial Host. Ridding the world of evil gets complicated when it becomes impossible to take sides.

As Ember struggles with morality, she soon discovers that there's something more frightening than anything she's faced before.


Embers ended on a bang. I was so sad Ila wouldn't be around to mentor Ember anymore, she was a beloved character for me. I think I had a soft spot for her because of her love of animals. There was also such an ominous air on the horizon because of the battle that Embers ended on, I was completely looking forward to what was going to happen next.
Gaia starts of exactly where Embers finished, which I LOVE. I hate when there is a time jump at the start of the next book and you have to fill in gaps, or wait till it's explained out… I'd much rather jump into the story exactly where we left it.
Much to my enjoyment both Embers brother, Timmy AND her best friend, Piper were both in Gaia! I was so confused in that Ember was incredibly close to them, but they weren't in the first book at all. Well, for some reason I overlooked the fact that Embers takes place within a month (I guess because it's so action packed it felt much longer), so the time she was away from them without speaking wasn't entirely ridiculous. Needless to say, they both had their own spot in Gaia so I was excited to see these two people that meant so much to Gaia. Piper played a pretty large part which I was happy to see because she and Ember's friendship is wonderful, they are entirely supportive of each other and have an incredibly close relationship.
Gaia has a TON of action… a ton. I had a hard time putting this one down because there is so much going on that I just wanted to keep reading. It's extremely fast paced, so much so that I felt like sometimes I was overlooking things. It's told in alternating chapters, like the first book, so we get to see both Ember's and Sawyer's points of view. Of course, this adds to the suspense between the chapters because I would always want to speed through Sawyer's chapters to get back to Ember.
Speaking of Sawyer, I still don't feel too much about him. I like him well enough, much like I did previously, but he just doesn't wow me. Of course, he is fantastic for Ember and is completely protective of her but I don't have that connection with him like some of the other characters. Horas and Ivan were so prominent in Gaia this time, which I loved because I really liked both of them in the last book and I ADORED them this time around. I will be heartbroken if something happens to either of them. We are also introduced to a lot of new characters, one of them being Insepth, her new mentor. I'm completely torn about Insepth… I guess I'll figure it out in the next book 😛
One reason I was so on edge reading Gaia is that I trusted hardly anyone. Of course all of Ember's friends I trusted, but all the newcomers? I had no idea what to think of any of them. I was constantly switching from trust to distrust as I was reading, which really kept the pages turning also because I could not figure out who was being honest… and who wasn't! And another thing? I have NO IDEA what to think of the Angels … even after two books. They scare me, I know that … and the Watchers? I'm still not sure of them either! It makes for an interesting read because I honestly do not know how everything is going to play out in the next book.
Gaia ends, again, with a bang. I am so excited for the next book … I am dying to find out what happens to Ember and her pals… and the war? and the Angels? Needless to say, I am 100% hooked on this series, and definitely recommend it if you enjoy paranormal and are searching for something unique in the genre!

Also in the Series:
Embers
by
Karen Ann Hopkins
The Wings of War Book One
Goodreads • Amazon
There are descendants of angels walking among us. Ember is one of them. And she may be the only hope mankind has as the rapture approaches and evil rises.

Embers is an epic paranormal adventure about an eighteen year old girl who discovers that she's immune to fire and any other injury when she's in a horrific car crash that kills her parents. Following a violent episode with her aunt's boyfriend, Ember flees Ohio to live with an old relative in the Smoky Mountains of Tennessee. Ember's exuberance at escaping a bad home life soon turns to trepidation when she finds out that she's a Watcher, a descendant of angels. While Ember learns about her heritage and the powers that go along with it, she strikes up friendships with two young men who live in a frightening walled compound in the forest. Inexplicitly drawn to one of the men in particular, an impossible romance develops. But it is cut short when Ember discovers that her new friends are fighting on the opposite side of a war—one that's been raging between two factions of Watchers for thousands of years. When the compound's inhabitants threaten the townspeople, Ember takes action, sealing her fate in the ancient battle of good versus evil—and the grayness in between. Ember is up to the challenge, until she realizes that she isn't only fighting for the lives of the locals and the souls of her new friends. She also might be one of the few champions who will make a stand for all of mankind as the rapture approaches and the end of days begin.

Embers is a dark and gritty YA novel that's the first book in the series, The Wings of War.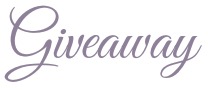 *Open Internationally*
*If Rafflecopter does not load, please refresh or click the link*
(Tour wide giveaway – hosted by Kismet BT)
*For some reason I am not able to insert the Rafflecopter, once I get this issue corrected I will insert the code however in the meanwhile please CLICK HERE FOR THE GIVEAWAY!!!!



*Please visit the tour page for more information*
Monday, August 24th
Bittersweet Enchantment (Review)
a Bookish Escape (Review)
Tuesday, August 25th
Behind The Pages (Guest Post)
Lose Time Reading (Review)
Wednesday, August 26th
Taking It One Book at a Time (Guest Post)
Thursday, August 27th
Such a Novel Idea (Review)
The Perks of Being a Book Girl (Guest Post)
Friday, August 28th
Avid Reader Musings (Review/Guest Post
Books and Things Review together with Guest Post
Monday, August 31st
Bewitched Bookworms (Guest Post)
Pause Time Reviews (Review/Guest Post)
Tuesday, September 1st
A Dream Within A Dream (Review)
Addicted Readers (Guest Post)
Wednesday, September 2nd
Actin' Up with Books (Review)
The Unofficial Addiction Book Fan Club (Guest Post)
Thursday, September 3rd
Sassy Book Lovers (Review/Guest Post)
Fire and Ice (Interview)
Friday, September 4th
Read by Amanda (Review)
Curling Up With A Good Book (Guest Post)
Monday, September 7th
A Book Addict's Bookshelves (Review/Interview)
Bumbles and Fairy-Tales (Review)
Tuesday, September 8th
The Cheshire Cat's Looking Glass (Guest Post)
Wednesday, September 9th
On Writing and Riding (Interview)
Little Miss Drama Queen (Review)
Thursday, September 10th
Book Lovers Life (Guest Post)
So Bookalicious (Review/Interview)
Friday, September 11th
Rainy Days and Pajamas (Review)
Her Book Thoughts (Review)
Monday, September 14th
the bookdragon (Interview)
God's Girl, Books and Coffee (Review/Interview)
Tuesday, September 15th
Don't Fold the Page (Review)
Jessie Marie Reads (Review/Guest Post)
Sassy & Dangerous (Guest Post)
Wednesday, September 16th
Mortal Moments (Review/Guest Post)
Roxy's Reviews (Review/Guest Post)
Thursday, September 17th
The Forest of Words and Pages (Review)
Hearrs Reading (Review/Interview)
Friday, September 18th
Literary Meanderings (Guest Post)