I'm so excited to be participating in this tour! Keep reading for my review, an awesome giveaway and be sure to check out the rest of the stops on the tour!!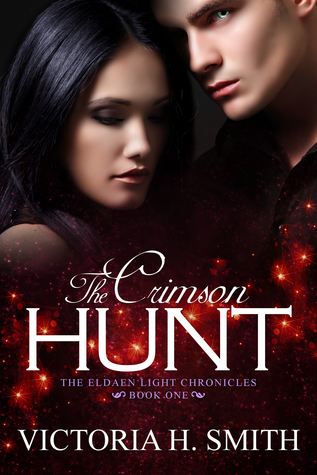 Pages: 340
Published: November 08th 2012
# in Series: #1 in Eldaen Light Chronicles
Source: From Xpresso Book Tours
Amazon | Smashwords | B&N
"College junior Ariel Richmond is working on year three of Project Normalcy.

Her house reeks of keggers past and her bestie is just a slight bit vulgar. But the thing is—they both aid in making life refreshingly uneventful.

So much for hard-earned mediocrity when Luca Grinaldi appears on the scene.

Luca's sudden presence on campus is hard to ignore. Those bright eyes act like a beacon to unsuspecting females, and with features like his, he's got to be moonlighting for GQ. Luca hopelessly captivates Ariel with his confidence and charisma, but the mysteries surrounding him make him nearly untouchable. And just when Ariel grows close enough to unlock his secrets, a tragic event sends her life in a downward spiral.

That steady life is no longer an option and allies quickly become scarce. The mysterious Luca seems to be the only one willing to help her—but with that trust comes the burden of his secrets. He has a dark mission of otherworldly proportions, and is willing to sacrifice as many lives as it takes to see it completed.

Gone are the days of simply maintaining normalcy, and if Ariel isn't cautious with her trust, so soon may be her future."
My Thoughts & Review:
The Crimson Hunt was so entirely different from what I expected. It took me on a journey to another world and back, and I was pleasantly surprised!
Ariel is a college student, who lives with her best friend, Piper. One day Ariel meets the cold and mysterious Luca who she quickly falls for. Piper warns her away from Luca, says he is bad news. Suddenly Ariel's world comes crashing down around her and the only one to turn to is Luca, but can she trust him?
First off, let me just say I did not connect with Ariel. At all, the entire story. There was absolutely nothing wrong with her but for some reason her personality fell flat for me. With that being said, and this is one of a few times this has happened, I still ended up really liking The Crimson Hunt. Victoria H. Smith has created such a wonderful world and story that I didn't even care that the main character was boring! Also Luca was off for me as well. He was sexy, mysterious, strong, loving, all of those things you want but I couldn't connect with him on any level. I did think he was a perfect love interest for Ariel though. My two favorite characters hands down, had to be Piper and Bailey. Ironically those two are compared quite a bit later in the story 😛 I'm sad that I didn't get to experience more of Piper, I really enjoyed her spunk and Bailey was such a sweet little girl, I can't wait to see more of her in the upcoming books.
The first 35% of the book was slow. I found it really hard to keep my attention to it, but once the events at the college started happening I could not put it down.
The world building is off to a good start. Due to the fact, it's not really mentioned until close to the end of the book we didn't get to learn a lot but I'm interested to see how the world building will play out in the upcoming books.
Other than the initial pacing of the book, The Crimson Hunt is a great read. The story is totally unexpected and carried a lot of uniqueness with the new type of paranormal beings(The Hunters) and the world building has major potential to continue.
I definitely recommend this to anyone who likes paranormal romance and I will certainly be continuing this series!
My Rating:

The Giveaway!
a Rafflecopter giveaway*Open Internationally *Please read terms & conditions
Happy Reading! xo Lauren