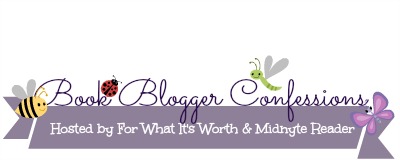 Book Blogger Confessions is a meme posted twice monthly(1st & 3rd Monday) where book bloggers share, discuss & confess book & blog related topics. 
Hosted by For What It's Worth & Midnyte Reader.


Lately the topic of blog tours/blitz/cover reveals seems to be popping up a lot and I was going to do a discussion post to put my two cents in so this weeks BBC topic comes at just the right time !!
To be honest I'm not entirely sure if participating drives traffic to my blog. I've noticed some posts have given me some new followers but then again that may have been merely coincidence.
I haven't encountered any problems when hosting them thus far *fingers crossed*. Everytime I've participated has been a pleasant experience and I have actually gotten to interact with a lot of authors because I've participated!
As a follower I'm not turned off my these posts, no. If it doesn't interest me, I don't read but that goes for all blog posts. I do the same for book reviews or discussions I'm not interested in. I know that a lot of bloggers do not want to promote books they haven't read but I think it's a great opportunity to showcase books your interested in. When I participate, if I haven't read the book, I clearly state that at the top. I think it's no different from tweeting about books you're excited about or memes where you talk about books your excited for. I also will only participate in promo posts if it's something I'm going to add to my TBR. If I won't add it, I won't promote it.  Because of promo posts I have actually found a lot of books to add to my TBR, new auto buy authors and had great interaction.
And the hardest question: How much publicity is too much? It's really hard to say. I remember a certain publicity campaign fairly recently that drove me nuts. A ton of bloggers had daily posts about the very same thing for weeks(or at least it seemed) and that got to be a bit irritating. I also don't like when I'm "pushed" towards books on Goodreads. I find a lot of authors on Goodreads are constantly sending me "recommendations" but it's really only for their own books and clearly something I wouldn't be interested in. That being said most of the time publicity doesn't bother me… I love freaking out about books as much as the next person. I just think you need to be aware of the fine line between promoting and spamming.
Phew… and those are my thoughts on that!
What does everyone else think?
Happy Reading!
xo Lauren