Top Ten Tuesday is  a weekly meme created by The Broke and the Bookish.

Well, I must admit… this year has been full of a lot more forgettable books than year at this time. It's probably due to the fact that I have read far less this year than the same time last year as well. THAT being said, I have read some PHENOMENAL books so far and strangely enough, quite a few of them are contemporary! In fact that is that what I am most wanting to read right now 🙂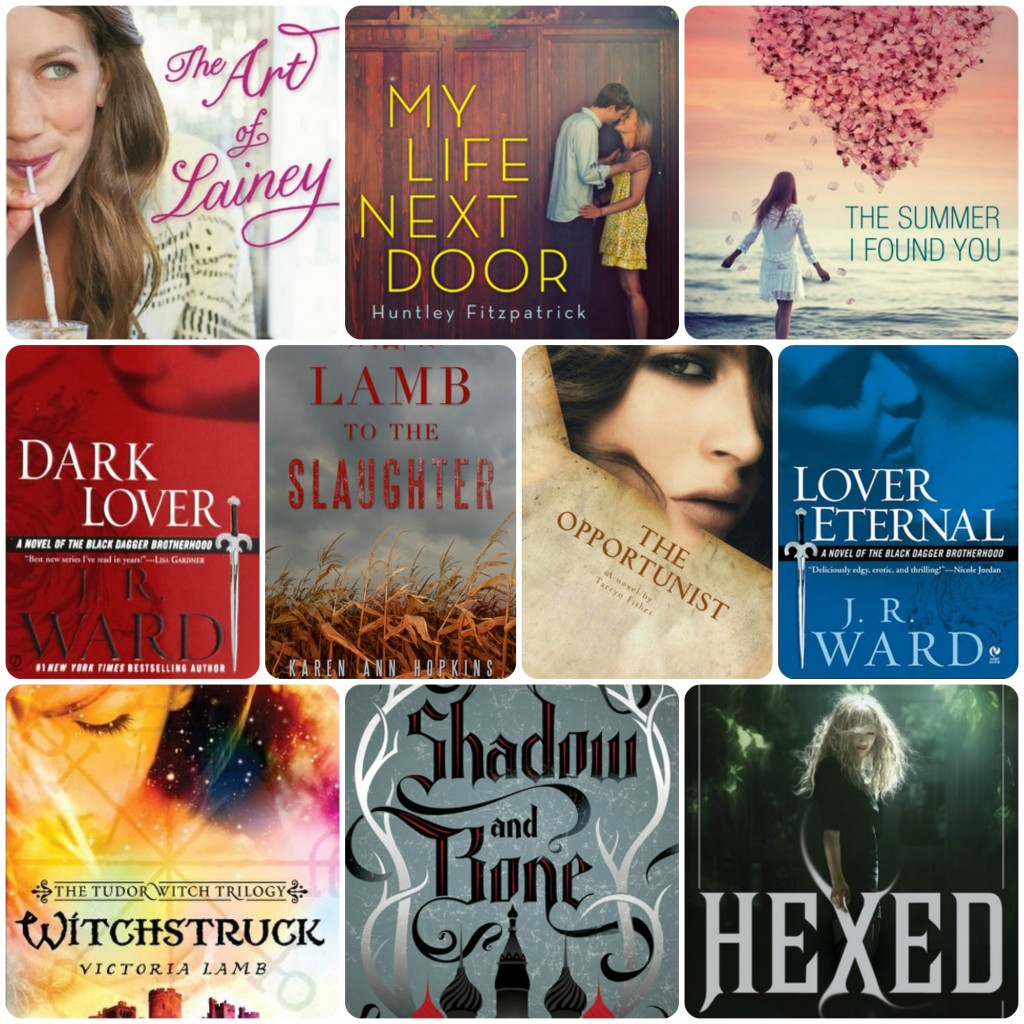 1. The Art of Lainey by Paula Stokes
*Now this is just slightly funny to be… I am in LOVE with this book and I originally had zero interest in reading it. Then I started to think maybe I would read it, and THEN I won it in the YASH giveaway and THANK GOD! This is now, by far, one of my favorite reads of the year and I cannot sing its praises enough (look out for my review this week!!)*
2. My Life Next Door by Huntley Fitzpatrick
*It took me so long to read this one and OH! when I did 🙂 I am just in love with this story, and the Garretts and the romance and the whole entire thing. The end.
3. The Summer I Found You by Jolene Perry
*This one took me by surprise, and I just adored it. I can't explain it, and I didn't well in my review either but I just adore it and the romance and it was one of those lovely, unexpected reads of the year.*
4. & 7. Dark Lover & Lover Eternal by J.R. Ward
*I can't believe I took so long to read this series (and I need to keep going soon!), I'm in love with all things Black Dagger Brotherhood. In. Love.*
5. Lamb to the Slaughter by Karen Ann Hopkins
*I adored Karen's writing as a whole but this one blew me away. It's a fantastic start to a new Amish mystery series and it's SO FREAKING GOOD!*
6. The Opportunist by Tarryn Fisher
*If Betty had never posted her review for this, it probably would have been forever off my radar and what a shame that would have been. This is JUST my type of book. Obsession type love, twists, shocking secrets and deception. Yes please!*
8. Witchstruck by Victoria Lamb
*Again, another pleasant surprise. I love historical, paranormal fiction and I hadn't read anything in the Tudor era prior to this. I was thrilled by Witchstruck and cannot wait to continue the series.*
9. Shadow and Bone by Leigh Bardugo
*Must I really talk about this one? It took me forever to read this and it's shocking to me that it did. I swoon for this series.*
10. Hexed by Michelle Krys
*This is a recent read and another fabulous one. I love the snark, the plot and Michelle Krys' writing… blown away by this debut!!*
And there you have it! What books have you loved so far this year? Link up!!